There may be an Academy Award for "Best Original Song," but where's the love for all the other songs that films so desperately depend on? It's hard to believe now, but there was once a time when motion pictures weren't chockablock with Top 40 pop hits. In the past 50 years or so this has become a common practice (some people blame Martin Scorsese, but I think even Scorsese would point a finger more emphatically at Kenneth Anger), and for every movie like The Bounty Hunter that demonstrates little concern for song choice or placement there are plenty of films and television series that put a lot of thought in selecting just the right song for the right moment. Maybe it's on the nose, maybe it's ironic, or maybe it's just jarring and weird, but there's a lot of mileage to be gained from using a familiar tune in an unfamiliar way.
Why are we even talking about this now? Because "Glee" returned for its second season this week, and boy oh boy, does that show depend on covers for its basic survival… And actually, thus far it's done a very good job of using existing songs to express new and distinctive sentiments. Our Listicle this week covers these kinds of covers: memorable tunes that are reimagined to tell a different story. What's your favorite cover song in film history? Most of ours are below.
WILLIAM'S PICKS:
"Make 'Em Laugh" from Singin' In The Rain (dir. Stanley Donen & Gene Kelly, 1952)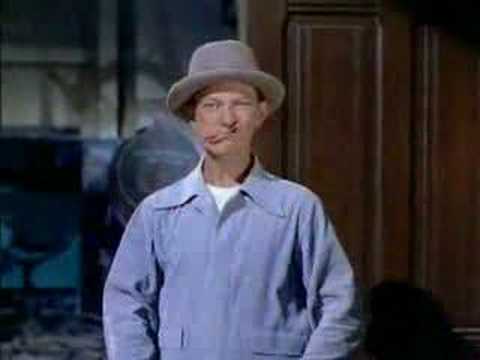 Singin' In The Rain is almost universally considered "the greatest movie musical of all time," and it just may be, but not everyone realizes that hardly any of the now-classic tunes from the soundtrack were originally written for the film. Even the title number was originally performed in The Hollywood Revue of 1929, an almost completely forgotten production by anyone's standards. Most of the songs had suffered similar fates in earlier, less famous films, but "Make 'Em Laugh" is the exception. Everyone knows and loves Donald O'Connor's manic and hilarious performance of the song in Singin' In The Rain, but his co-star Gene Kelly performed it himself just a few years prior in Vincent Minnelli's impressive but comparatively lackluster film The Pirate. Back then it was called "Be A Clown."
What's fascinating about this little bit of trivia is that nobody gave credit to "Be A Clown's" original composer, the great Cole Porter, even though they were both MGM productions. They're not exactly the same number, but listen to them closely. Even the changes to the lyrics feel minimal: the purpose of the number is exactly the same. Porter never filed a formal complaint, but maybe that's because "Make 'Em Laugh" is clearly the superior version of the song, used in more appropriate context and choreographed with near-infinite superiority. "Make 'Em Laugh" is one of Singin' In The Rain's many highlights. "Be A Clown" was a pretty forgettable number in a pretty forgettable movie. It's a great song either way, but this here remains one of the prime examples of how to use an existing song to greater effect cinematically than even the original performance.
"Mandy" from "Angel" (created by Joss Whedon & David Greenwalt, 1999-2004)
The second season of "Angel," the spin-off of the cult hit "Buffy The Vampire Slayer" that some would even argue dwarfed the original series in quality (if only for a couple of seasons), introduced a pretty wonky conceit: A demon named Lorne (the late, great Andy Hallett), who could read people's pasts, presents and even their futures… but only if they sang karaoke. That's some pretty silly stuff, but it worked. Why?
Because "Angel" was an uncomfortably dark series when it first aired. Clever, but not particularly "fun." Obviously, incorporating a plot point that forced the protagonists – and sometimes even the villains – to belt out a few pop hits would lighten up the proceedings a bit. But the real reason why Lorne's abilities were karaoke-based was also the source of the idea's dramatic potential: Singing forces one to bare their soul, particularly if they aren't comfortable expressing their emotions otherwise. Many of the characters on "Angel" could be described as guarded, even in denial of their own feelings, so karaoke, and the ridiculousness thereof, was almost a perfect antidote for both the series' and its protagonists' grimness.
The cognitive dissonance between such a jovial pastime and Angel's inner torment was best illustrated in his performance of "Mandy," originally performed by Barry Manilow and written by Scott English and Richard Kerr. David Boreanaz's extreme awkwardness and tone-deaf performance made it a comic wonder, but the eventual revelation of why he would choose such a mawkish number in the first place – the blood of the innocent was a factor – made it a classic. Read more…