Artist: Kalenna
Album: Chamber of Diaries
Format: Free download mixtape
Available at: http://iheartkalenna.com/

CLR Rating:
One of the criticisms most frequently leveled at r'n'b and hip hop from outside is that it's full of faceless, bikini-clad women. While it would be hard to look at some of the worst of early 00's misogynist-revival rap without noticing you see more girls' assets than eyes, it's an unfair and pretty baseless accusation if the critic looked even slightly beyond whatever 50 Cent video they've last seen. It's the equivalent of insisting that, having reviewed the output of Metallica, you've decided there are no women in metal. Female singers and rappers have been creating involving narratives from the earliest jazz and blues greats through to someone like Trina's tales of stripping and splitting from the last decade.
Since 2009, in particular, there's been a sudden rise in concept albums by female artists, from Electrik Red's How To Be A Lady Vol. 1 to Janelle Monae's ArchAndroid and Nicki Minaj's Roman Reloaded. When Diddy (whose Press Play album is heavily reliant on spectacular, confessional duets with women including the staggering "Last Night") announced that he was making the several-times-delayed concept work Last Train To Paris with new group Dirty Money, aka Dawn Richard and Kalenna (pronounced Kal-een-a) Harper, a former Danity Kane alum and songwriter respectively, I was confident something alchemical was in the works.
Last Train is still the album I get out to play most frequently, a year and a half after it came out and a lot of that enduring appeal is the Dirty Money girls. It's definitely not a Diddy solo work, every song a group piece and a dissection of a failing relationship in a high-speed chase across Europe to save it. The first verse of "Ass On The Floor," in particular, harsh and vulnerable and punctuated by obscenities, showcased Kalenna as a performer with a particular ability for warmth and toughness. Dawn Richard has a bigger vocal range but Kalenna's double threat addition of rapping, as well as her comparatively small recording history (Dawn had already released two albums as the lead singer in Diddy-created group Danity Kane) made her instantly interesting, a star surely on the rise.
Consequently, when this hype video for "Get To Work" appeared earlier this year, it created the expected ripples of excitement…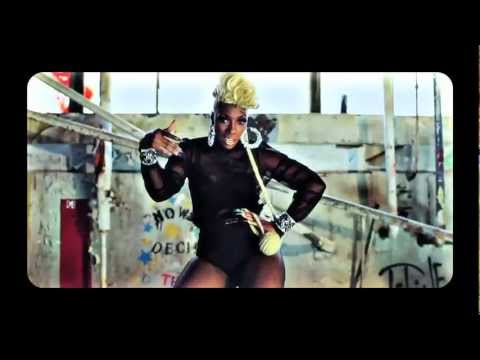 The song portion is barely over a minute long, with barely any lyrics and most of what there is four-letters; it doesn't seem worth the heavy styling that's gone into it (the credits for make up artists etc. takes almost a third of the video time) and Kalenna looks frightening, accusative, not at all the warmth of Dirty Money. It's a great declaration, though — all punk and fire and a definitive break from the r'n'b mixtape version of "Last Train To Paris, Love Love vs Hate Love" which was still creating a buzz.
When Kalenna released her own mixtape (the new r'n'b model of releasing music for free, to make money from modelling, press and ticket rather than record sales) the buzz had died slightly (she was beaten to it by Dawn Richard, whose 2011 mixtape A Tell Tale Heart is also spectacular) but the music no less extraordinary.
Chamber of Diaries is enormous, violent, distorted and messed up. Over half the album is dedicated to the pain and release of intoxication, from the straightforwardly-titled "Pain and Alcohol" to the Flo-Rida answering "Feeling Good", the rest a mix of intense confessional and blustering, manifesto-like declarations of avarice and ambition.
"6,000 Sistas", muttering and calculating, deconstructs the relationship between sex and money, putting the price at the eponymous six thousand women with the refrain money money money money coin coin coin obsessively chanted throughout. It's eerie and creepily mechanical, aggressive and repetitive. There's a lot of chanting across the tape, not for shortage of lyrics (when Kalenna lets rip, like on "Put It In The Bag", her flow is as eloquent as Nicki Minaj's best, if not a bit more focussed) but for effect. The aggression of the tape lies in the sense of being overwhelmed by an echoing army, ricochet gunshot beats spattered throughout.
"Matte Black Truck," which starts with a tender declaration of loving being held, soon flips to the frighteningly needy — if you leave I'm a blast Wu-Tang in my matte black truck in my matte black truck/I'mma keep my red cup filled up in my matte black truck — one of two references to brokenhearted drunk driving on the album (the other, on "Pain & Alcohol," leaves her dead at the end of the song) sets this up as a seriously dark work.
Arranged as a series of confessional songs, lyrically directed at the listener (every song is pointed at a hypothetical 'you,' even when it's about her) Chamber of Diaries is suffocatingly claustrophobic, intense to the point of being uncomfortable as the distorted noises crescendo in places. Kalenna isn't shy about making an ugly song, which is an enormous strength particularly in the aesthetically-driven female vocal pop scene.
Even the occasional moments of prettiness are offset by something dark — "Feeling Good" is hedonistic to a point of almost mocking the Flo Rida song it references, undermining his bravado with her commitment to getting messed up. "S On My Chest," a rare ballad, is insecure and needy even as she asks the hidden 'you,' boy, put that s on my chest, I'm a super woman don't you ever forget. The double-meaning, of offloading and lauding her, is a co-dependency and insecurity that permeates every song; while she shouts ambition, she begs you not to leave.
Kalenna's album proper comes out later this year (the mixtape is just a teaser, although the album is currently promised to be all new songs) and although it seems likely the most dischordant, psychotic, unpalatable elements of Chamber of Diaries will be if not toned down then possibly not the dominant force of the record ("Pain and Alcohol"'s feeling like a white girl on cocaine/took three vicodin, I feel strange/pushing 100, hitting curves in the rain seems pretty unlikely to be tolerated by mainstream radio) not least because this feels like a unique, cathartic episode.
The mixtape format allows artists to experiment without needing to conform to anything a label wants, letting edgier and more exciting stuff get pushed to the fore — Kalenna has no need to control her swearing-as-punctuation habit if there's no official single with obligatory radio edit, for instance and from the aggressive outset of "Go To Work," that's very much the core of Chamber of Diaries. This is intended as real artistry but also as unedited, raw and unleashed; I can only hope that whatever passes muster for official publication keeps the toughness and intensity, even if it loses the drunk driving and suicide threats.