Bucky Larson: Born to Be a Star

Directed by Tom Brady
Screenplay by Adam Sandler and Allen Covert

Nick Swardson as Bucky Larson
Christina Ricci as Kathy McGee
Don Johnson as Miles Deep
Stephen Dorff as Dick Shadow
Ido Mosseri as J. Day
Kevin Nealon as Gary

How long is Bucky Larson: Born to Be a Star? 96 minutes.
What is Bucky Larson: Born to Be a Star rated? R for pervasive crude sexual content, language and some nudity.

CLR Rating:
Larson Doesn't 'Buck' The Trend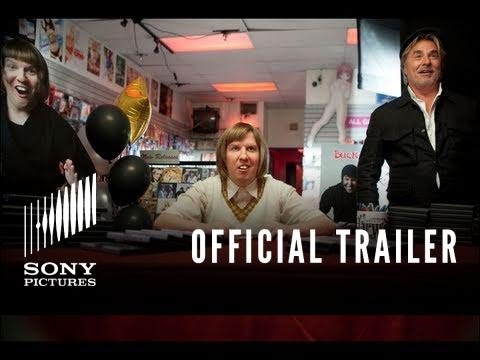 The Adam Sandler genre serves a unique function in the world of movie comedy. Over-the-top without being offensive. Weird (well, weirdly momented) without being uncomfortable. Sweet without being saccharine. Having dirty content while being overall clean. Even his R-rated spinoffs are pleasant, containing the same child-like sensibility as his PG-13 fare, while lacking the more adult mind and darker tone of movies such as The Hangover, Bridesmaids, and Horrible Bosses.
Bucky Larson: Born to Be a Star is the latest from Sandler's Happy Madison production company, existing between Just Go With It and Jack and Jill. Unlike those two, this one stars Sandler's protege Nick Swardson (star of Grandma's Boy and Sandler's sidekick in You Don't Mess with the Zohan and Just Go With It) as Bucky Larson, a goofy Iowa kid with two huge buck teeth but filled with humility and wonder. He's the same age as SpongeBob SquarePants, where he has the emotional and intellectual development of a child but can hold down a full-time job and seemingly has no academic obligations.
After discovering that his equally gosh darn wonderful parents (Edward Herrmann and Miriam Flynn) were hugely popular porn stars in the 1970s, Larson decides to go to California and follow in their footsteps, considering it his destiny. Along the way he meets the Love Interest (Christina Ricci as the equally down-to-earth Kathy McGee, a diner waitress who fulfills the archetype of the Sandler "quirky" love interest), the Villain (Stephen Dorff (excellent in last year's Somewhere) as Dick Shadow, a fellow porn star who looks like Bret Michaels), and the Mentor (Don Johnson as Miles Deep, a down-on-his-luck porn director); no sidekick though.
Although Larson's first attempt at blue films seems not to take, he quickly becomes an Internet sensation (think the opposite of Dirk Diggler) and, eventually, a bona fide star by making people feel good about themselves, despite physical shortcomings and performance-based inadequacies. Nevertheless, Larson retains his good old-fashioned charm and pluckiness, never letting his stardom go to his head or sacrificing his innocence.
We know the formula, but is it funny? The best way to describe my reaction to the film is to cite to the South Park episode How To Eat With Your Butt. After witnessing the Thompsons, sufferers of Torsonic Polarity Syndrome, Cartman cannot find anything humorous, believing that he "broke [his] funny fuse." Trying to find humor in life, he goes to see Grossout Comedy 8. While the audience guffaws over the grandpa-frenching antics of the on-screen people, Cartman cannot find anything remotely amusing about the picture.
And that's how I felt about Bucky Larson. Though I could see how the jokes existed — Bucky, Bucky's parents, and Kathy should be jaded, but they say words like "heck" and "golly." Porn should be a dirty secret, but they treat it like any old thing. People think Bucky's teeth are weird and he doesn't get that they are — I thought they just sat there, obvious and unfunny.
I should note here that's also how I felt about Grandma's Boy, which has earned itself a great deal of popularity since its release.
Bucky Larson, the first Adam Sandler film not starring Adam Sandler that Sandler has a writing credit on, contains many of the expected trademarks — Random characters acting oddly. A soundtrack featuring the hits of the 1980s. Old people. Kevin Nealon. — which also means that it has many of the same flaws. The characters are all stock, with Dick Shadow especially not seeming evil enough. Like in most of these movies, the relationship between Larson and the Love Interest lacks depth. (Though during montage sequences Ricci does appear to have some Anna Faris-style comedy skills.) And, it fails to be as consistently or as outlandishly absurd or bizarre as in Sandler's best work, with the random "weird" characters not nearly as present as they should be.
Maybe Sandler deserves credit for not messing with the formula that has made him one of the biggest comedy stars, writers, and producers for over a decade. Although I haven't seen everything in his oeuvre, I don't believe he's gone the "meta" route by making fun of or internally referencing the template that makes up the majority of his movies. But at some point, the redundancy becomes overwhelming, and you begin to believe that there has to be something more he can create.